Discover more from The Long Scrawl
True stories about life in Palmela, Portugal (and beyond) from a writer who emigrated from the States.
Over 1,000 subscribers
The holidays and I have a history. (Who doesn't?!)
When I was a child, I expected magic at Christmas time and was forever disappointed. I wasn't looking for the small magic, then, but for something big and breathtaking.
I wanted the perfectly feathery snowfall (the kind that exists only in movies when the snow isn't real). I wanted a crackling fire (my family didn't have a fireplace and neither did anyone I knew). I wanted to open a gift—just one—that would make me feel as if the giver truly knew me (instead of the practical, utilitarian presents my mother wrapped for me or the horrifying babydolls my step-grandmother insisted on gifting). I wanted chestnuts roasting and sugarplums dancing, even though I wouldn't have recognized either had they hit me upside the head.
I didn't want Santa Claus, because that would have been sacrilegious given it was Baby Jesus' birthday and all. But I would sit sometimes in the early winter dark and squint my eyes at the colored bulbs on our slightly sagging artificial tree and wish to be struck by an overwhelming emotion. I wanted to fall on my knees like the song said. I wanted genuine wonder. Capital letter JOY.
I had high expectations.
I trimmed them down, as the years gathered. Pruned them to the tiniest nubs of possibility. I no longer needed cinematic precipitation or haloed heralds. Didn't even need Christmas, really, by the time I was 25. All that hope and hurry was too exhausting.
Luckily, I've learned to redefine the season.
Marido has always been a fan of Christmas, so when we were married and moved from Chicago to San Francisco, we made a promise. We wouldn't return to family for the holidays. We'd come up with our own traditions.
By the time Filha joined us 10 years later, our Christmas tradition was well established. We'd open stockings on Christmas Eve and presents Christmas morning and then, after breakfast, we'd head out to the beach. The only catch: It always needed to be a beach we'd never been to before.
After 20 years in California, we were starting to run out of really great new beaches within a reasonable drive. But here in Portugal, we haven't yet begun to appreciate the wealth of scenic coastline that awaits us.
It was raining yesterday, on Christmas, as it has been here in the Setúbal area for much of the past three weeks. But still, after breakfast we piled on some layers (even the dogs) and headed out into the wet.
Even on the worst Christmases: the sad ones, the grumpy ones, the I'm so tired I can't leave the couch ones, there is a small magic that never fails. When we go out, we are gladdened. Whatever the weather, whatever the tide, we—all of us—are glad we tried. Glad we left the malaise of inside with its confetti of wrapping paper and mangled cardboard boxes.
It's not just the fresh air, it's the sense of discovery. It's the Oh, wow, look at this! It's the crash of the surf and the cries of the gulls and the blissful luxury of having nowhere better to be and nothing better to do.
It's in this spirit and the afterglow of yesterday's holiday hike, that I sit here to write. I want to create a record to remember this small gathering of gladnesses from the past month…
---
My sister came to visit!
I have one sister, Johanna. She's four (and a half) years younger, so we weren't especially close when we were small. I was always outgrowing things just as she grew into them. (Translation: She always wanted to play with me and I always said no.) But around the time she got her driver's license, she came to visit me in college. That is where our friendship really began.
For most of the past two decades, we lived within driving distance of each other, and our kids have grown up together, not just as cousins but as friends.
Now there is an ocean between us. We keep up with texts and video chats but of course it's not the same. So when Jo was able to leave California to see me for a week earlier this month, I could barely contain my joy—or my tears.
Her visit was a wonder. I can't wait until she comes again.
---
50 Notes of Love
Speaking of my sister, she is Queen of Thoughtful Gifts. My birthday was last month, and one of the birthday presents she unfolded from her suitcase was a glass jar filled with small paper scrolls.
When she handed it to me she said, "There are 50 love notes in this jar. I asked different people to write down things they love about you. You can open them all at once or one a day or just dig in there and grab one to read when you need it."
Not only that, but each scroll is wrapped in a small wire from a roll that my Nana, Mary Ellen, used for flower arranging. (Nana died in 2009.)
See what I mean? Queen of Thoughtful Gifts.
The jar is sitting on the window sill within reach of my desk. Every once in awhile I reach in and unroll a paper and read a love note from my sister, from my nephew, my nieces, my Dad, from Filha or Marido. It's a treasure trove. I'm taking it slowly instead of all at once.
---
The Filly in the Field
There is an open green field nearby that we often wander through with our dogs. For the past week, a white mare has been tethered there with her young filly. The little filly runs free, and she likes to try to play with us and with the dogs.
We saw her again this afternoon and every time she gambols by on those long, long legs, I feel lighter. I feel joy.
---
Season of Lights
I don't know how many years you have to live in Europe before you get used to the exuberance of the holiday lights. Everywhere you go, every smallest town, is all lit up from November to January.
I can't get over it. I hope I never do. That child in me, the one in search of magic, she would have eaten this shit up.
Pictures do more justice than words, in this case, but even they don't capture the feeling…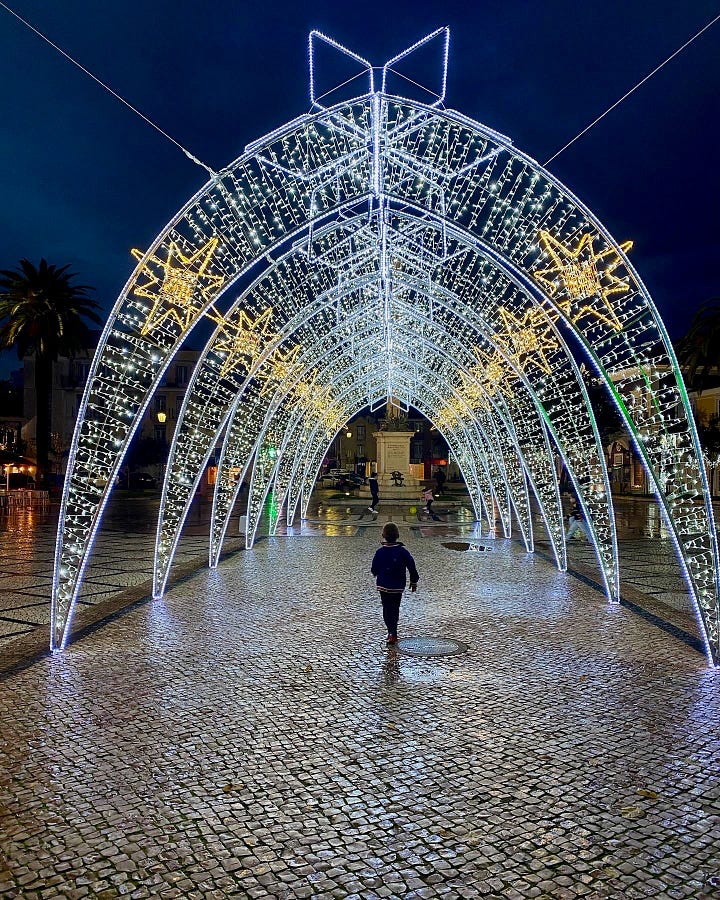 ---
Dog Jackets
Yeah. Just… dog jackets. Canine outerwear. I mean, look at them. How could this not make you glad?
---
26 Days of Poetry (and counting)
I've been writing poetry all month long. As I mentioned in my last post, I've joined the 30/30 Project with Tupelo Press, in which poets write one poem a day for 30 days, and Tupelo publishes them even though they are often messy and sometimes pitiful first drafts.
The point, for me, is to level up my writing practice and flex my poetry muscles. The point, for Tupelo, is fundraising. They're a small non-profit press and they rely on donations to publish their beautiful books of gorgeous words. If you'd like to support my own writing, along with Tupelo's publishing efforts, please consider donating a bit before the year winds to a stop. You can do that here.
My 26th poem, published today, is called "Questions I Don't Ask Myself." Scroll down to my name here and you can read it.
For those who tell me you aren't much for poetry, I won't hold it against you. But I will tell you that poetry has, at times, kept me alive.
I love writing prose and I always will. But poetry is it's own kind of miracle. Raw. Visceral. A lump in the throat. A song whose name you'll never remember. A live wire. A hidden knife. It's wild. It's universal. It's yours alone.
You know a poem works if it makes you feel. Emily Dickinson famously said, "If I feel physically as if the top of my head were taken off, I know that is poetry." And also: "If I read a book and it makes my whole body so cold no fire can ever warm me, I know that is poetry."
If you haven't yet felt scalped or frozen solid by a poem, I'm gonna bet you haven't found the right one yet. There's a different knife for everyone.
---
Speaking of Knives
The Saturday before Christmas, I shaved all my hair off.
No, I'm not ill. No, I'm not depressed. No, I'm not punk rock.
I've been thinking about doing it for a long time. Feels like every woman should know the shape of her own skull, at some point. Finally, I just picked up the scissors and cut.
---
Laranjas e Vizinhos (oranges and neighbors)
On the 23rd, Filha and I carefully wrapped several red-jacketed holiday cards in plastic (to protect them from the rain) and headed down the road to tie them onto our neighbors' gates.
Out here in the country, we don't have mailboxes near our property—they are up the lane, all in a row, and there's no way of knowing which number belongs to which neighbor. Also, the properties are all surrounded by stone walls, so you can't just walk up to the front door and ding the bell.
We haven't met many of our neighbors yet, anyway, so it felt a bit presumptuous to raise a racket. Instead, we quietly tied the cards with a bow and went back home.
The morning of Christmas Eve, there was a giant crate of oranges outside our front gate. And that afternoon, the very elderly next door neighbor tootled over on his four-wheeler to creak out a very enthusiastic, "Merry Christmas e Boas Festas!" and hand-deliver his own crate of oranges.
Now I'm wondering why we waited so long to introduce ourselves!
---
Sheep Bells
One of my all-time favorite things about Portugal. Just… listen:
Wishing you all a heaping helping of gladness! Thanks for reading along.
---
---
Copyright © 2022 LaDonna Witmer